There are a lot of affiliate programs and networks out there. So, deciding which one to join can be difficult at first. As you gain more experience, this will become easier for you.
Just don't go out and join every program you can! Make sure the products are related to your niche. Don't try to promote bedding on a site that is promoting dieting.
The only questions that you should have are which ones to join and when. I believe that you should get your site up and have five to ten articles before promoting products. You can read more about this in my article "How affiliate marketing programs work".
This will give you some of the basic knowledge you will need to be successful in affiliate marketing.
The program I will discuss here is Shareasale. We will look at how to join Shareasale, why, types of products, how to find a merchant, and how to sign up with a merchant. Why join Shareasale?
Shareasale is an affiliate network with over 4,500 merchants with that you are able to promote products or services. You can earn a commission on anyone that you refer to them.
Commissions will range anywhere between 5% to 50% or more of the sale. The average commission is between 10% and 25% and most will have a 30-day cookie. This can add up, especially when some products sell for hundreds of dollars.
When you work with an affiliate program, they usually require a specific amount of sales before they send you a commission payment. Some require as little as $20 in commissions and others require $100 or more.
If you sign up with several programs, you will need to reach minimum amounts with each one, but when you sign up with a network like Shareasale, you only need to reach commissions of $50 to receive a payment. When you are promoting multiple merchants through the same network, this is not difficult to meet.
What Types of Merchants Sell on Shareasale?
Merchants sell using a network like Shareasale for many reasons here are just a few of them:
Lower advertising costs – as affiliates, we provide a lot of advertising on a commission basis. If no one clicks our affiliate links, then the merchant receives free advertising, but when someone purchases after clicking on our links, then the merchant still pays less than traditional forms of advertising. TV ads alone can break anyone's budget!
New products – it takes a long time and a lot of money to build up your brand's reputation. If you create a new product in an industry where the big companies are spending millions in advertising and have been around for 40 years, how much chance do you think you will have to survive as a merchant?
Personal perspectives – as an affiliate marketer, I put my own twist on products that I review. If the product is one I like and performs how it should, I will be happy to give it a good review. Some products that I have reviewed, I still use. If I do not like the product or it doesn't work how I expect it to, then my review will reflect that. I have nothing here to lose by being honest. There are a lot of good products to promote, I do not need to lie in my reviews to make a sale.
Testing the market – the merchant may have a product that they just want to see how it does and if it is worth putting money into it. A new style of clothing, jewelry, diet supplement, or anything else. As long as the product is legal, you never know what you will see in the network.
Easier – a smaller merchant finds it easier to work with an affiliate network. Shareasale provides a lot of tracking information to their merchants, which makes it easier for them.
Fewer hassles – at one point I worked for a luggage manufacturer and had to deal with retailers. They were always trying to take deductions and charge us back for any reason they could. The bigger the retailer, the more problems we had with them. The amount of money and resources you tie up here can kill a small company!
If you already have your own products, take a look at becoming a merchant. You will be surprised how easy it is to promote your products with Shareasale or read my review on Wealthy Affiliate and think about building your own online business.
What Products Can I Promote?
There are a large variety of products that you will be able to promote through Shareasale. They can be anything from auto parts to web design. When you sign up with the merchant, make sure they have products that are relevant to your niche.
How Do I Sign up With Shareasale?
To sign up with Shareasale go to their affiliate login page here.
Complete the application with the required information such as:
Name
Email address
Address
Website URL
Tax ID or SSN
Where to send your commission payment
It will only take a few minutes to sign up with Shareasale.
How Do I Find and Sign up With a Merchant?
After you have completed your account, it's time to find products to promote. There are a couple of ways to find a merchant. Click on either the merchant tab at the top of your Shareasale dashboard, then select search.
Or use the Find Merchant toward the bottom of the dashboard.
When you have found a merchant that you may be interested in, open their website on another screen and see what products they are selling. If the products are what you want on your site, then click the Join Program button.
Read any additional requirements or restrictions that the merchant may have if any. Some will take a couple of days to approve you after they have looked at your site. This is why I recommend having some content on your site, it will make it easier for you to get approved by the merchant.
You will receive an email letting you know if you have been approved or not. If you are approved, you can start promoting that merchant's products immediately.
Write an article or review one of their products. You may also want to place a banner or ad on your site. Don't be afraid to try a product before writing a review. You will be able to give a first-hand opinion of the product. This is always the best way to give an honest review. (see How to write content for a website – why is it important?)
Where do I Get Links and Ads?
The easiest way to find the links and ads is on the menu at the top of the page. It is right next to the merchant tab where you can search for a merchant. Click links, then Get the Link/Banner. The page will have a list of all the merchants that you have signed up for.
Click one of them and select the link or banner that you want to use.
Final Thoughts
Signing up for a merchant network like Shareasale is easy to do and makes sense, especially when you are starting out. The variety of merchants and products that are available to you in one place, can keep you busy for a while writing articles and reviews. You will also be promoting your website through social media and our means.
Make sure you follow the policies and rules of Shareasale and the merchants. You do not want to receive an email saying that you have been terminated. Run your online business in an ethical and professional manner and you should have no problems. Click here to join ShareASale.
If you do not have a website or a strong community to learn from, check out my review on Wealthy Affiliate. They have been a great resource for me and can be for you too. You can also click here to build your Free website.
Here is a PIN you can share with your friends on Pinterest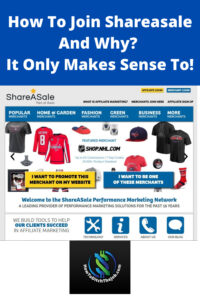 Other Articles to Read
How To Pick The Perfect Affiliate Marketing Network
How Does Wealthy Affiliate Really Work?