Are people always complimenting your nails, and are surprised to learn you styled them yourself?
If you love the creativity and customer-facing nature of the nail salon, then you might consider starting your own business. The home nail business can be an excellent way to make money.
Starting up a nail salon at home is hard work, but digital software will make it easier. Take a look at this guide to discover how to start a nail business at home.
Apply For The Necessary Permits And Licenses
The very first thing you need to do when setting up a business from home is applying for any permits and licenses that may be required. This step is vital, and if you skip it, you might find your business is shut down.
The necessary permits and licenses for a home nail business will be determined by the state you live in. Check out the U.S. Small Business Administration for advice.
If you live in a rental property, you may also need permission from the landlord.
Now is also the best time to apply for insurance.
Research Similar Businesses In The Area
You probably already have a good idea of the nail salons in the area, but research is necessary to ensure you understand your customer base.
Check out what businesses are nearby, what services they offer, and how much they charge.
Pay close attention to their online presence — your business will need to stand out from the market, while also appealing to the same customer base.
Combine both in-person research and online research to accurately gauge the competition.
Create A Business Plan
With the permits assured and a clear idea of the competition, it's time to start your business plan.
This should cover what the business is, your starting budget, and how you intend to make money. A business plan should be overarching, without becoming complex. Keep the plan simple and realistic.
Struggling to get started? Look for online resources guiding you on how to make a business plan. We recommend using an online tool to better track and edit your business plan as you progress.
Create A Marketing Plan
One of the hardest tasks you're going to face as a new business is finding your audience and attracting customers.
Marketing needs to be a key focus, particularly in the early stages of your business. Consider branding, focusing on appealing to a target audience and ideal client.
If you're serious about creating a successful nail business, then it's worth investing in marketing software.
This can be used for SMS and email marketing campaigns, targeting customers with attractive deals and offers.
Marketing software can also help you track the success of your campaigns, allowing you to see what strategies are working.
Online marketing tools have become necessary for managing a successful marketing campaign.
These will help you to understand and take advantage of algorithms, find your customer base, and turn clicks into customers.
Set Up Your Management And Financial Accounts
By this point, you should have a good idea of how your home nail business will look, and how you want it to grow. It's time to begin getting everything into place.
Above, we mentioned the importance of online marketing tools. These aren't the only digital tools you should consider when starting a home business.
Management software allows you to organize your schedule, keep track of your customer records, and control your inventory.
You may prefer to use all-in-one software, which will allow you to control everything from a single dashboard.
These tend to offer less in-depth tools but are useful for a new business. Alternatively, you may prefer specialized software, to target an exact need of your business. 
Now is also the time to set up your accounts and your financial software. This software will keep track of your incomings and outgoings, including tax, insurance, and inventory.
Register Domains And Create An Online Presence
Following on from your marketing plan, it's time to create an online presence.
Social media is key to attracting customers and requires consistent maintenance. Consider what social media channels you will target — Instagram, Twitter, Facebook, etc.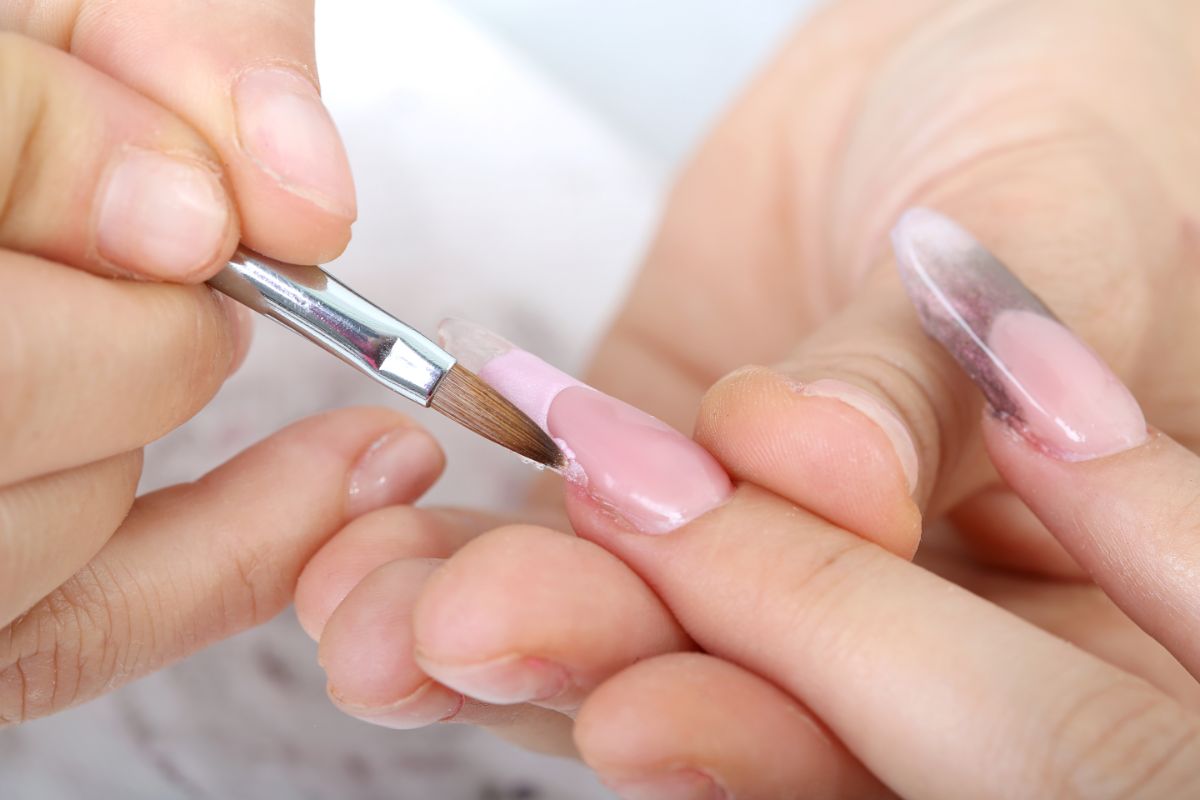 It's tempting to try and build content on all sites but focus instead on the pathways more likely to deliver customers.
A web page is less important nowadays than it used to be, especially for attracting customers, but this is still useful for explaining your services, and scheduling appointments.
Make sure all your online profiles are clear and well organized and contain all the relevant information, such as opening times and contact details.  
Create Online Payment And Bookings Forms
To ensure success for your home nail salon, you want to make sure your customers have a smooth journey from start to finish.
Investing in good online payment services and booking software is a surprisingly important factor and one that can be overlooked.
While these features may not be as showy, or as upfront as other digital tools, they play a key role in the customer experience.
By choosing payment and booking software that can integrate with your management and marketing software, you can take control of the business.
Everything should work together so you can easily see where you're making money, where you're losing money, and how the business is functioning.
Pen and paper really aren't enough anymore! Use digital software to optimize your business.
Stock And Organize Your Salon
With your online presence established, your software in place and your marketing campaigns started, it's time to get the business up and running.
Invest in stock and organize our place of work, then you can start booking customers!
As a business, research your suppliers to find wholesalers that can offer a discount on bulk purchases. Some items, such as tissues and gloves, will need to be purchased in large amounts.
Consider setting up repeat orders, so you never have to do without.
Final Thoughts
Digital software can help you manage and maintain an online presence, attract customers, and keep track of your business.
When setting up a home nail salon, focus on getting the behind-the-scenes and the front-of-house functioning together. 
Helpful Articles to Read
How Does Wealthy Affiliate Really Work? to learn how to design and run your own website.
Do Freelancers Need A Business License? consider working as a freelancer as you build your business.
7 Must Have Small Business Books When Working From Home get started out the right way.