Review: What Is SaleHoo All About? – Legit or Scam
If you are looking to sell products online through your own website, other sites, eBay, Shopify, or anywhere else, the biggest problem that you most people have is finding reliable sources of products to sell. SaleHoo helps to bring suppliers together with anyone looking to sell online.
I sold on eBay a few years ago, but my biggest obstacle was finding products low enough to resell and make a profit. When you add eBay and PayPal fees up, it can be difficult to make much on an item. Another challenge for me was to find steady sources of products, SaleHoo can also be used to overcome this problem as well.
We will take a look at what SaleHoo is all about and some features, then you can decide if you can benefit from something like this.
Name: SaleHoo
Website: Salehoo.com
Price: $67.00 per year
Guarantee: 60-Day money back guarantee
Founders: Simon Slade and Mark Ling
I have included some of my affiliate links in this review to allow you to get more information or to purchase the products.
What Is SaleHoo
SaleHoo is a New Zealand based company founded in 2015 by Simon Slade and Mark Ling. This is a product sourcing tool that provide subscribers:
An extensive list of over 8,000 product sources
SaleHoo is a directory of over 8,000 wholesalers, drop shippers, liquidators, and manufactures. You can locate one that you're interested in by:
Searching for a product
Narrow down the supplier type: wholesalers, drop shippers, liquidators, or manufactures
Select the product location: such as North America, Europe, etc…
Select ships worldwide if you want a supplier that will ship anywhere in the world
Choose your suppliers from the list
Training
The main topics covered in additional to their blogs are:
Getting Started – covers the basics of getting starting selling online. Things to do and consider, along with what not to do
What To Sell – helps you select profitable products to sell online
Find A Product Supplier – you will learn how to source products from trusted suppliers
Selling On eBay and Amazon – covers what you need to know when starting to sell on eBay and Amazon. There are other sites to sell on that are also covered, but these are the two most popular ones.
Starting An Online Store – the basics of what to consider when starting your own online store
Importing and Shipping – a beginner's guide to importing and shipping products
Be sure to read their blogs and spend time reading the comments. You will find some good information there like other sites to sell on and tips.
Information of competition
Information on competition is important, especially when starting out. You don't want to try selling products that everyone else is. Picking products with lower competition can help you increase your profits.
SaleHoo will let you know which products have low, medium, or high competition. They will also list how many sellers on Amazon are selling a particular product.
Information of trending products
SaleHoo tracks the most popular trending items and will provide you with information on them. They will let you know what it hot or products that show signs of taking off. This will allow you to get in earlier as the demand for these products start to take off and will help you make more money.
Reviewing A Supplier
When you select the supplier from your search, you will see:
How long they have been in business
How long they have been listed on SaleHoo
Company overview
Company information
Product information
You can also save suppliers that you are interested in to your favorites. This allows you to quickly find them in the future.
All suppliers have been researched and information verified by SaleHoo before they are added to the directory. So, you can be assured that you are being provided a good quality supplier.
Selling Online
Whether you sell through eBay, Amazon, your own site, or others you will be involved in every area of the process. This includes:
Sourcing products
Listing products
Selling products
Handling questions to and from customers and suppliers
Updating shipping information that is provided by your suppliers
Handling disputes from damaged, missing, or wrong shipments
Coordination refunds with your customers and suppliers
These are only a few of things that will take up some of your time. You can make money and have fun selling online, but keep in mind that it is a business and will require some time and effort. How much, will be up to you.
There are other things to consider once your business takes off.
Should I incorporate and when?
Do I need a tax ID number?
What should I name my company?
These are great questions for your accountant or CPA. It may be helpful to discuss these and other questions before you start or once you start making money. Many people don't incorporate until later, but depending where you live, there may be some tax advantages you can benefit from or local rules regarding running a business.
Your company's names should not be too specific. A more general type name is better. This will allow you to sell a greater variety of products, but will help keep them focused in your general theme or niche.
Is Salehoo A Scam Or Legit
From my research, SaleHoo is a Legit way to find thousands of product sources. If you are looking to make money online or selling products, this can be a huge time and money saver!
When you are searching for products, there may be multiple sources for the same product. Check them all out and see who has the best prices. Sometimes the best price may be from a supplier that is not listed on SaleHoo. Be sure to do your research when selecting products, even small amounts can add up over time!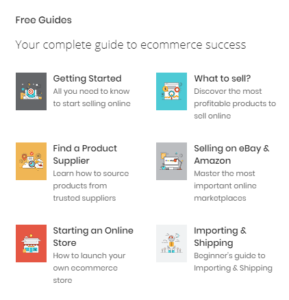 Conclusion/Recommendation
I would recommend SaleHoo to anyone looking to sell products. They have done most of the leg work for you by researching companies and providing an extensive list. This can be a valuable tool for only $67.00 a year.
This can be a good resource, but make sure you do your research before selling products. If you can find the same product from another supplier even $1 less, this will add up!
I enjoy writing articles and reviews for my sites, but have been considering creating additional streams of income. By using what I have learned here, I am considering selling products on eBay, Amazon, or other sites. I prefer a more passive approach, but will look into this further for my own use.
To learn to create your own website and start your own online business, see my where I started learning for FREE. This is my most recommended opportunity.
Please leave your comments or questions below and thank you for reading,
Jim