Many of us have dreamed in the past of running our own business, and one of the most popular businesses to run is in the field of photography.
However, when it comes to running a business, you may think you need plenty of experience to get up and start – but it's not always the case.
In fact, it's entirely possible to start a photography business with no experience.
But what exactly are you meant to do? How do you start a photography business with no experience? Well, this guide is going to show you.
We'll look at everything you can do to get started with your dream photography business. Read on to learn more!
Know Your Niche
Before you get started, you will need to think about what sort of photography business you want to get involved with.
Photography is a huge field, so honing in on a niche is going to be your best bet when you're starting out.
Some of the niches that you could specialize in include wedding photography, real estate photography, sports photography or pet photography.
Once you have thought about all of the potential niches you could get yourself into, you will then make your final decision.
Get The Equipment
You can't start a photography business without having a camera!
However, along with a professional camera, you will also need to make sure that you have an excellent lens, a quick and reliable computer and excellent editing software.
Promote Yourself With A Blog
One of the best ways you can get started is by creating your own blog in order to showcase your work. This digital footprint will allow you to share your work and advertise your services.
Along with your blog, you should also utilize social media and get your name out there.
As a starting block, you might want to freelance for others which will give you the experience you need to create excellent photographs.
Create A Business Plan
No successful business has ever started without having a clear business plan. When we're talking about photography businesses, the best thing you can do when you're starting out is understand that the online and digital world is your best friend.
Generally speaking, you will have a limited budget when you begin your photography business, so using digital platforms online will save you plenty of money.
It's wise to bear this in mind. Instead of focusing on print photography, start with a heavy lean towards digital photography only.
Conduct Market Research
You're going to need to know about your potential competitors. As you will likely be doing the majority of your business online, your focus should be on the digital photography landscape.
However, it is still important that you look at your competitors in physical stores in your local area. You may be able to undercut their prices for digital photography and still make a profit.
Know Your Target Audience
This thought process will likely already have been conducted when you were considering what type of photography business you were looking to start. However, some of the niches could potentially have a variety of different target audiences.
Therefore, you will need to think about your target audience, and on a digital platform – this means you will need to target specific places online to market your product/service.
For example, if you are going to start a wedding photography business, then you will likely infiltrate social media pages for wedding dresses or similar pages. Your target audience could potentially be brides-to-be.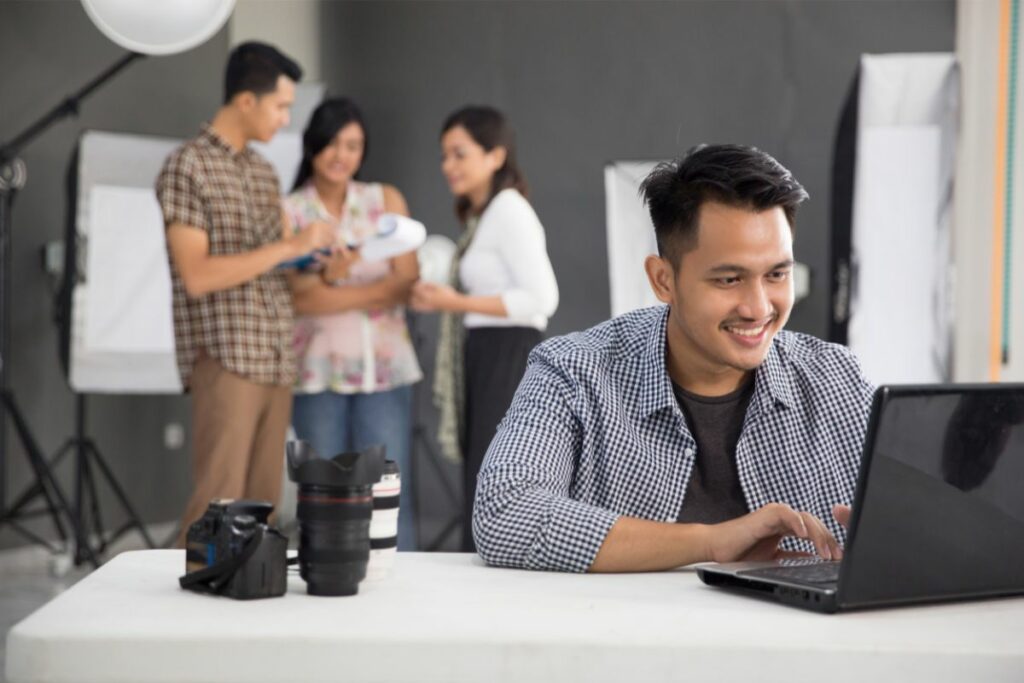 Know Your Finances
In order to know how much you will be charging for your services, you will need to know how much your competitors are selling their services and products for, but you will also need to know your own finances.
You may have taken a business loan for things like equipment and software and you need to bear this in mind for your outgoings. You will also need to consider your own salary per month and if you use any extra staff (potentially freelancers).
Once you have completed all of these considerations, you will then need to draft a pricing plan for your business.
Market Your Business
Successful marketing will play a huge role in your success. In order to properly market your business, you will need to do the following:
Create a compelling brand
Utilize social media and the digital world
Create business cards, flyers
Spread the word about your business
Let's look at these in more detail.
Branding
Excellent branding will make all the difference when it comes to having a memorable business. You may wish to invest some capital in a digital logo which you feel defines your business ideas.
Try to come up with a memorable logo and also a memorable motto which can easily be identifiable.
Utilize Social Media
Social media is excellent because generally, it's free to use. You should take huge advantage of this aspect and always spread the word of your business by creating your own business page and sharing your work.
Remember to share your blog and all your contact information, this will give your business much more exposure and increase brand recognition and your chances for profit!
Create Business Cards
Every business owner will want to have business cards which can help to physically spread the word of their business, and direct people to your online platforms.
Spread The Word
Along with your business cards and online sharing, you should also let people know about your business by spreading the word by phone, email, in person and even with flyers.
Final Thoughts
Experience can be gained when you set up your own photography business, but you have to have a great plan and a great product to make sure you succeed in this world.
Good luck!
Other Articles to Read
How Does Wealthy Affiliate Really Work to lear how to create a blog, social media and much more
What Is A Way For An Entrepreneur To Decrease Risk – some things to think about when starting your own business
My Fiverr Review – What Is Fiverr All About – looking to do some freelance work, Fiverr is one of the better places that connect freelancers with clients